If you are attending to travel to Vietnam with your dear family and friends, remember to take a Halong bay tour to know more about how to get to Halong Bay from Hoi An.
Hoi An and its two must-join experiences
Hoi An ancient town is famous for old corners and the lively and colorful light of decorative multi-colored lanterns at lunar nights. That pure beauty is the thing attracting many hearts of tourists from many places to come and visit, which makes Hoi An become one of the top must-see destinations in the world. So what makes Hoi An ancient town enjoyable? Take Halong tours to explore two practical experiences in Hoi An with us right now.
Become an artisan to make old town lanterns
No one can deny that the lanterns make up the Hoi An brand, creating an attractive beauty that appeals to everyone. Only walking in each street and taking thousands of photos of the lanterns are enough to fill your memory. However, the hand-knitting lanterns in Hoi An will be one of the most exciting activities when coming here.
You need to wander along small roads to find the workshop of the artisan Huynh Van Ba to explore more about this exciting experience. May you never imagine that the small bamboo sticks can create such beautiful lanterns? Under the guidance of skilled craftsmen, visitors will learn how to prepare the bamboo, select the fabric, and make their lanterns.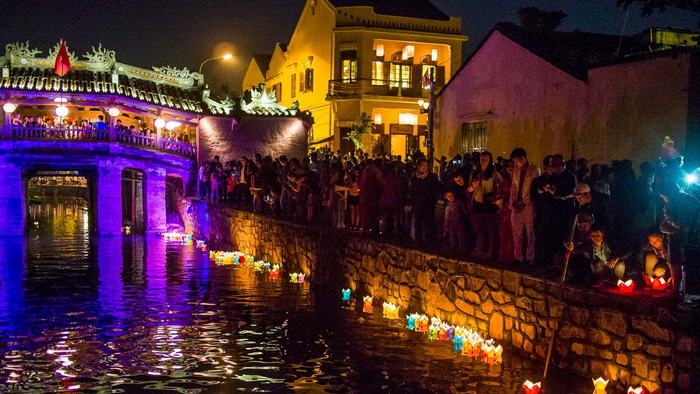 Hoi An by night
Indeed, a bit of skill from their hands is needed. Depending on your preference, you can create a lantern with your personalized design, and then you decorate it yourself. Your tasks are sitting and adjusting each bamboo fiber, framing and learning how to stretch the fabric beautifully.
Come to make fruit squash-shaped lanterns, garlic-shaped lanterns, or hexagon-shaped lanterns to keep good memories about Hoi An! If not, you can contact the tour operators to choose a tour to experience lanterns making. It is also a worth service for you when coming to Hoi An.
Become a skilled potter
Thanh Ha pottery village in Hoi An is proud of the home's pottery industry with charitable works of national products such as Bat Trang ceramics. Belonging to Cam Ha commune, Thanh Ha ceramic village has retained its unique features thanks to the meticulous craftsmanship from the foot pedal to the hand-made.
Take a walk around the old town, admire the terracotta park, and visit Thanh Ha to learn how to make pottery. After walking around for a short time, you can attend special classes here. As a practitioner, you have the opportunity to listen to lectures on ceramic art as well as the history of pottery.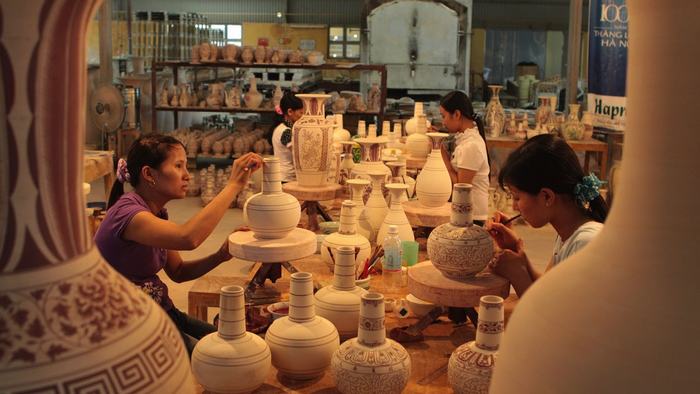 Thanh Ha Pottery Village
The most attractive step is hand-crafted ceramic products. Though they cannot be as beautiful as expected, they are your cute products. You can make glass, a cup or a vase but this is not easy at all. From an inanimate piece of land, it has become full of emotion through your ingenuity.
If you are new to pottery, the first steps are certainly quite difficult, but after a few minutes, visitors will feel interesting. Once the products have been created entirely, the products will be taken to be under the sun and then decorated. Maybe the first products seem quite simple even there are some mistakes on them sometimes. But your joy is doubled.
Finally, all products will be fired with a small fire in the traditional stove in 7-8 hours. Then they are fired with big fire until they become durable ones not hard. It is excellent!
Halong Bay and its engaging experiences
Halong Bay is the world natural heritage which is famous for its majestic beauty of wonderful caves and limestone-mountains. Moreover, there are a lot of interesting experiences for tourists to enjoy as follows.
Visiting caves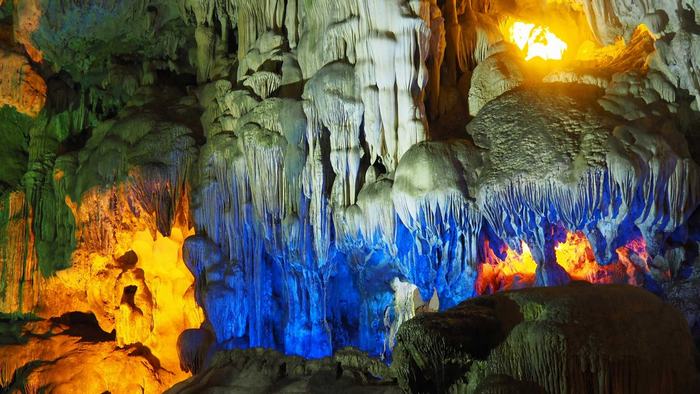 Me Cung Cave
It is a delightful activity tourist look forward to. The caves here are created naturally with the exotic beauty which can be expressed in words. Some beautiful caves are Surprise cave, Thien Cung cave, Dau Go cave, and Trinh Nu cave.
Practicing Tai Chi exercises on cruises
There are many ways to welcome the morning; however, practicing Tai Chi exercises is one of the most excellent experiences in Halong. Tai-chi is a way to nourish the minds of people and ease the stress in life. Visitors can enjoy both fresh air and the view of the limestone cliffs on the beautiful green water. There will be teachers instructing tourists on how to practice Tai-chi correctly.
Visiting the fishing village in Halong Bay
A visit to the fishing village in the surrounding area is also one of the exciting activities in Halong Bay. Visitors will see the image of simple stilt houses. In the old days, local people lived mainly on fishing. And tourists will learn more about the local customs and traditions here. The scenery around the fishing village is very peaceful and poetic.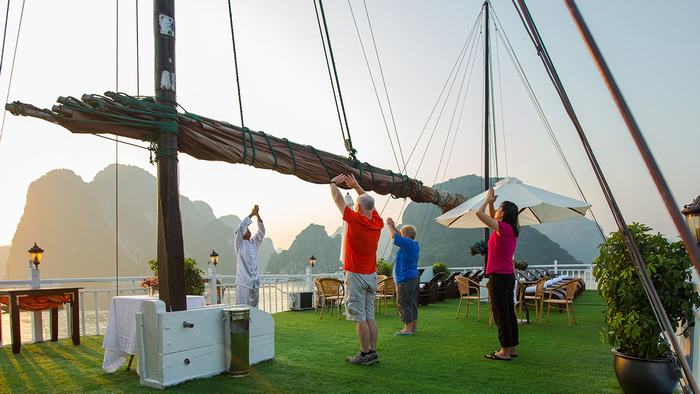 Tai Chi on Halong Bay cruise
Travel to Halong from Hoi An
It is about 577km from Hoi An to Halong. Even though there is no direct connection between Hoi An and Halong Bay, tourists can still take a tour of Hoi An – Da Nang – Hanoi – Halong.
Hoi An – Da Nang airport
It is about 40 km from Hoi An to Da Nang. There are the two most safe ways for tourists to travel from Hoi An to Da Nang below.
Taking a bus – the most economical way
- Tourists can take bus 01.
- The total time is about 70-80 minutes.
- Detailed schedule: Hoi An bus station – Tran Dai Nghia – Le Van Hien – Ngu Hanh Son – Tran Thi Ly bridge – Duy Tan – Thanh mountain – Trung Nu Vuong – Bach Dang – Hung Vuong – Chi Lang – Le Duan – Ong Ich Khiem – Nguyen Tat Thanh – Ha Khe – Ha Huy Tap – Dien Bien Phu – Ton Duc Thang – Da Nang bus station
- The trip starts at 5:30 am and ends at 17:50.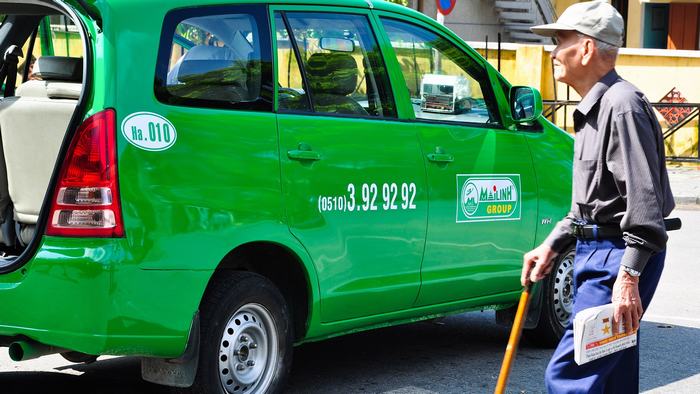 Taxi in Hoi An
Taking a taxi
If you travel with your dear family and friends and you do not know well about Vietnam, taking a taxi is a good choice for you. You can refer to some taxi operators in Hoi An below:
– Hoi An taxi: 0236.3.919.919
– Mai Linh taxi: 0236.3.929.292
– Faifo taxi: 0236.3.919.191
Da Nang – Hanoi
It is about 812km from Da Nang to Hanoi. There are two ways to get to Hanoi from Da Nang. The easiest way to get to Hanoi from Da Nang is taking a flight at Da Nang airport, which is easy and safe for you!
Hanoi – Halong
It is about 183 km from Hanoi to Halong. The way suggested for you is taking your private car. Together with6 tips to know for a good Halong Bay trip, you will have a safe trip to Halong.
Taking part in many exciting activities on the trip Hoi An - Halong will give you many memorable moments when coming to our dear Vietnam. Do not hesitate to contact us on the website Halong bay tours to get more information about Hoi An and Halong Bay. Share the post if you find it useful. Have a great trip!